Rare Objects
by Kathleen Tessaro
In Depression-era Boston, a city divided by privilege and poverty, two unlikely friends are bound by a dangerous secret. . . .
Maeve Fanning, a first generation Irish immigrant, was born and raised among the poor, industrious Italian families of Boston's North End by her widowed mother. Clever, capable, and headstrong, Maeve is determined to better herself despite the hardships of the Great Depression. However, she also has a dangerous fondness for strange men and bootleg gin—a rebellious appetite for experience that soon finds her spiraling downward in New York City. When the strain proves too much, Maeve becomes an involuntary patient in a remote psychiatric hospital, where she strikes up a friendship with an enigmatic young woman, who, like Maeve, is unable or unwilling to control her unladylike desire for freedom.
After her release, Maeve returns to Boston to start over again, landing a job at an antiques shop catering to the city's wealthiest and most peculiar collectors. Run by an elusive English archeologist, the shop is a haven for the obscure and incredible, supplying one-of-a-kind artifacts to its customers while providing Maeve with unique access into the world of New England's social elite. While delivering a purchase to a wealthy family, Maeve is introduced to beautiful socialite Diana Van der Laar—only to discover she's the same young woman from the hospital.
Reunited with the charming but increasingly unstable Diana and pursued by her attractive brother James, Maeve becomes more and more entwined with the Van der Laar family—a connection that pulls her into a world of moral ambiguity and deceit. Bewitched by their wealth and desperate to leave her past behind, Maeve is forced to unearth her true values and discover just how far she's willing to go to reinvent herself.
A rich, universal story of ambition, transformation, desire, and betrayal, Rare Objects is acclaimed writer Kathleen Tessaro's finest work to date.
My Rating:

Favorite Quotes:
"It's a trick I learned from my mother – when in doubt, act like you know what you're doing, and you'll be treated like you do.  And if you can convince others, there's a chance that someday you might just be able to convince yourself."
"I used to wonder what it felt like to waste something; as a child I couldn't imagine anything more delicious or sinful than the extravagance of throwing things away.  I've wasted a few things since then; it's not as liberating as I imagined."
"Almost everywhere else, time was an enemy; the thief that rendered food rotten, dulled the bloom of youth, made fashions passé.  But here it was the precious ingredient that transformed an ordinary object into a valuable artifact – from paintings to thimbles.  I'd never been around such extraordinary things."
"I was unused to praise, wary of it, especially from her.  It often proved only the harbinger of some future disappointment gathering on the horizon."
"He made a girl feel like she was a diamond and he the gold setting, designed to show her off."
"If you want to know why you drank too much in the first place, try stopping."
"I thought about the ring, how untouched it was by everything that had happened around it and would happen… Selena was right.  It would journey from hand to hand, continent to continent, decade to decade – a time traveler made of agate and gold.  We were the fragile ones.  The ones who, like Mr. Tresalion's salvaged objects, needed to be rescued, reimagined, restored."
My Review:
I seldom read historical novels as I typically become too annoyed and antagonized by how the women were treated to properly enjoy the story.  However, despite the limitations the women in this story were constricted by in 1932 Boston, I could not put this book down.  The characters and issues they faced continue to be relevant and real, despite the year or era.  Kathleen Tessaro is a gifted writer who adroitly captured and depicted May's frustration, desperation, and exasperation with her lot in life, while also painting a vivid and fascinating account of the world spinning around her.
Ms. Tessaro's characters were deeply flawed, smart, witty, feisty, selfish, likable, alluring, seductive, and well drawn.  Her writing was crisp, well paced, keenly observant, and acutely insightful.  I saw myself so clearly in these pages and instantly bonded to the character of May/Maeve, as we share many similarities.  I had also yearned throughout my youth to flee and reinvent myself away from the rigidity of family, and I would swear the author based May's iron fisted, judgmental, critical, controlling, stingy, stubborn, penny-pinching mother – whom she absolutely ached to rebel against… on a matriarch who shares my DNA.  While I am not saying I have never made a misstep, May was the mistress of bad decisions and poor choices.  Poor May, when she failed on her own and found herself returning to her mother's apartment a broke and broken adult, she continued her attempts at rebellion in a self-destructive manner.  Yet she had moxie, and I adored her, and I am deeply enamored with Kathleen Tessaro.
About Kathleen Tessaro
Kathleen Tes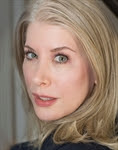 saro is the author of Elegance, Innocence, The Flirt, and The Debutante. She lives in Pittsburgh, Pennsylvania, with her husband and son.
Find out more about Kathleen at her website and connect with her on Facebook.